Happy New Year!! For those of you that have resolutions that include losing weight or eating less sugar, you'll want to go get back on the treadmill and just ignore this.
Ok, now that I have just "my people" here, Crisco's chosen ones, lets talk cookies - sometimes a girl just needs a plate full of cookies that look impressive and taste fantastic, but you don't have the time or energy to start on a recipe that begins with "Sift the first 12 dry ingredients together" then this is the cookie for you. This isn't a recipe, this is simple assembly.
Candy Bar Cookies
What You'll Need
Premade Sugar Cookie Dough
Snickers Mini Size Candy Bars
Using your cookie scoop, scoop out the desired number of cookies so that you have uniform amounts of cookie dough.
Flatten the scoops into little round circles.
Put a snickers mini in the middle of the dough, and seal the candy bar inside.
Place on a cookie sheet and bake as directed, taking the cookies out a minute before suggested so they don't burn on the bottoms as you let them cool while they are on the pan instead of a rack because they are pretty delicate and fall apart when moved since their middles are all melted chocolate and nougat.
If you are feeling particularly motivated you can decorate the tops of the cookies (Nothing says lazy lady like posting a pic of the Christmas tree cookies in January, now does it?!?) To decorate the tops, I put a few green Wilton candy melts and a few red Wilton candy melts into freezer bags, put them in the microwave for 30 second intervals, stopping between to knead the melting candy until it was the right consistency to squirt out of a snipped off freezer bag corner and just freehanded the trees. I think they would also be cute with white snowflakes on top for winter, red hearts piped on for Valentines, shamrocks for St Patrick's Day and so on. (Where did I get the idea to pipe on decorations using a freezer bag with the corner snipped off? Well Tina of course, she's brilliant if you haven't noticed!)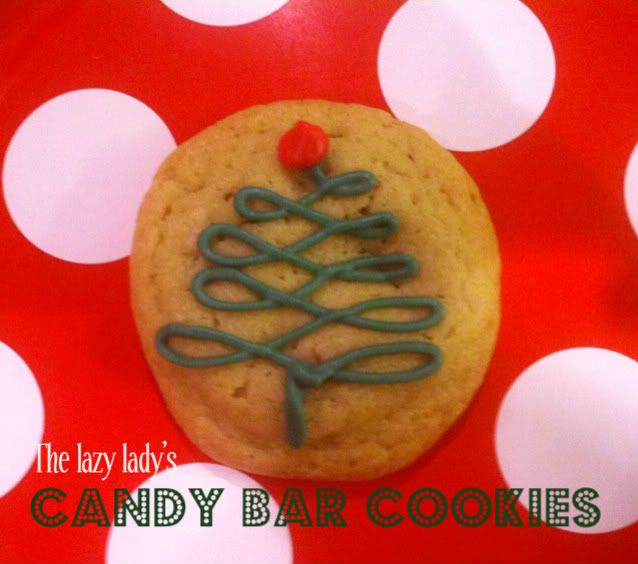 So, don't stop here with just the sugar cookie and snickers bars, come up with your own combos, such as peanut butter cookie dough with Reese's minis inside - there is no end to the flavor combinations and these cookies are so easy you will find yourself making them over and over and the best part, people ALWAYS compliment how yummy these cookies are! Enjoy!