Have you ever found something you know you love but you have no idea what you're going to do with it? Well I saw this tissue paper and while I had no idea what I was going to do with it, I had to have it. Fast forward a couple of days, I needed some Valentine appetizer plates. (Ok, maybe
need
is a strong word - but c'mon who doesn't
need
cute plates?!?) Well if you want a cheap, easy, and fast way to make some custom plates - you've come to the right place.
What you'll need:
Clear glass plate - the one I chose is $1.99 at Bed Bath & Beyond
Tissue paper of your choosing (fabric works well too)
Matte Mod Podge
Foam brush
Plastic plate or vinyl tablecloth to protect your work surface
Scissors
Place your plate upside down on your protective surface - I used a paper plate, but use whatever you have handy, and put the tissue paper over it, smoothing it out and then running your hand along the edge to score the paper where you should cut.
Cut out your tissue paper just inside the ridge from where you scored the paper with your hand so that it is a little smaller than your plate - that way there is no paper hanging over the edges.
Take the foam brush and dip it into your Mod Podge and paint a thin layer on the back of the plate, place the tissue paper print side down so that when you flip it back over you can see the print through the top of the glass plate.
Smooth out the wrinkles starting in the middle and smoothing out to the corners. Paint another thin layer of Mod Podge over the back side of the paper to seal it and let it sit to dry.
let dry for 20 minutes and you'll have this!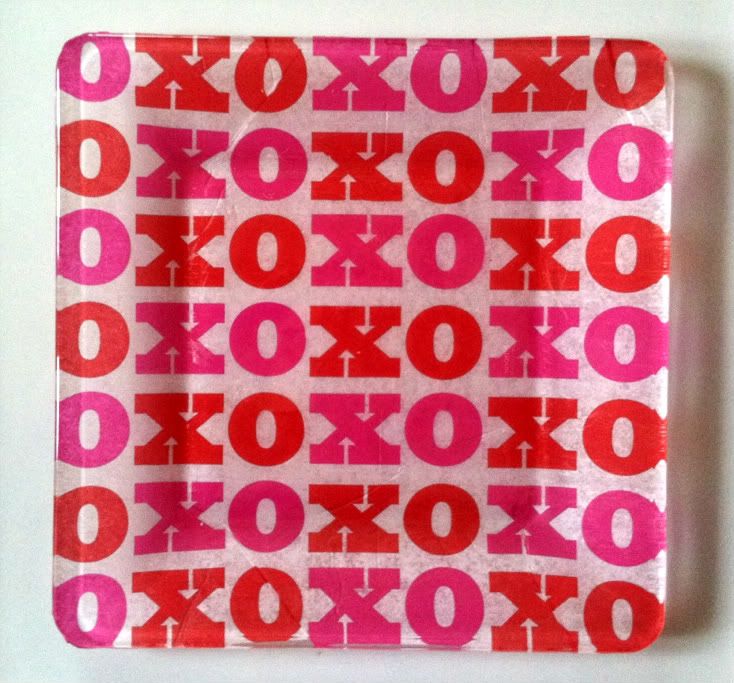 Seriously easy and super fast!! Take thirty minutes this Thursday and make yourself a fun (and cheap) plate! You NEED it!