What's not to love about a recipe as simple as a pound of butter, a pound of sugar, a pound of eggs, and a pound of flour? Different sources say that the pound cake was invented in the early 1800's because most people couldn't read recipes so it was an easy way to make a cake. Even though I can read a recipe (which may be debatable if you see some of my screw ups) I love a poundcake, its something I make when I need to use up eggs or I don't want to make a trip to the store, so I was so happy to see that Pound Cake has its own holiday!!
National Pound Cake Day is officially March 4th, and I had every intention of posting this man-pleasing poundcake on Sunday night, but I was traveling through some icy weather and didn't arrive until entirely too late to start typing - unfortunately Hallmark doesn't make a "Happy Belated Pound Cake Day" card so please forgive me! Since you get a ton of batter from this pound cake you can make a lot of different things from the batter. Most people use a traditional bundt cake but for this recipe, I used two thirds of the batter to make 4 mini loaves of pound cake, and I poured the remaining one third of batter into a regular loaf pan to crumble up for the cake pops.
This cake is a real man pleaser because it is really nice and dense, it looks like bread, it isn't sugary sweet and you can taste the bourbon, which is partly why I decided to make cake pops to give a girly spin to this manly cake.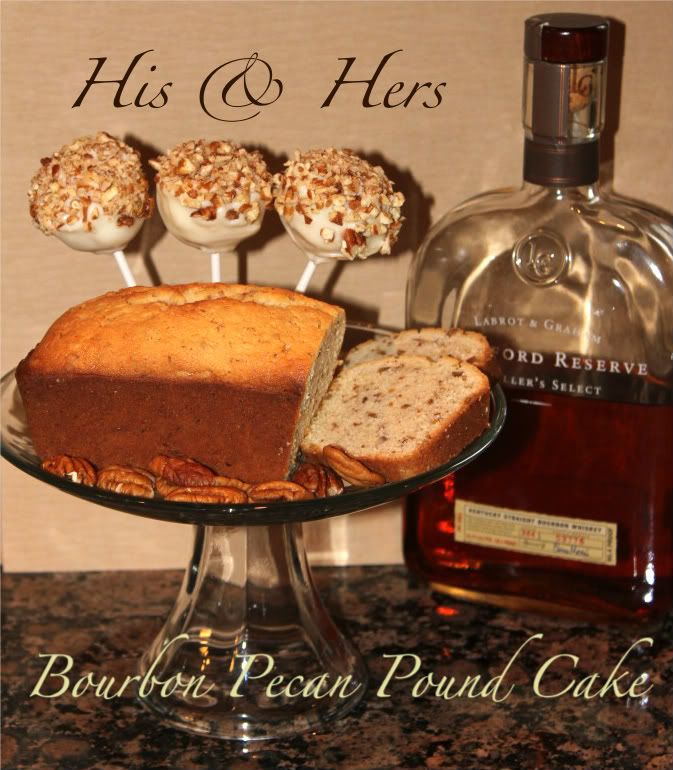 This recipe
, slightly adapted from Food.com (and by slightly adapted, I doubled the Bourbon)
1 ½ cups butter, softened
1 - 8 ounce package cream cheese, softened (I used low-fat and
½ cup Bourbon (I highly recommend Woodford Reserve)
1 ½ cups pecans, toasted and chopped
Preheat oven to 325. In the bowl of an electric mixer with the paddle attachment, on medium speed, cream together the sugar, cream cheese, and sugar, stopping to occasionally scrape down the sides until combined. Turn the mixer on low and add the eggs one at a time. Sift together the salt and the flour and add a cup of the flour mixture, followed by 1/4 cup of the bourbon, and then alternate until you add the last of the flour. Stir in the vanilla and the pecans. Prepare your pans by greasing and flouring them. Divide 2/3rds of the batter among 4 mini laof pans and pour the remaining 1/3 into a normal sized bread pan or if you prefer more of a traditional pound cake, pour into a 12 cup bundt pan. Bake for one hour, or until a toothpick comes out clean. Let cakes cool completely on a rack.
1/3 of the "His" Version Pound Cake, cooked, cooled, and dark edges trimmed off
1 can Cream Cheese Frosting, I used Duncan Hines
Shred the pound cake until it is the texture of sand, mix in the can of cream cheese frosting until a ball forms and it is the consistency of Play-Doh. Wrap dough with plastic and chill for an hour. Divide dough in half, then in half again, half again, and finally one last half again for 16 chunks of dough. Roll each chunk into a ball. Then melt a handful of the candy melts and dip the lollipop stick into the candy melts, then stick it into the dough ball to secure it, work on a parchment covered cookie sheet so that you can stick all of the pops into the freezer when the sticks are inserted. Leave in the freezer for 30 min to an hour for the pops to firm up. Melt the rest of your candy melts, and dip your pops into the candy melts and top with the chopped pecans.